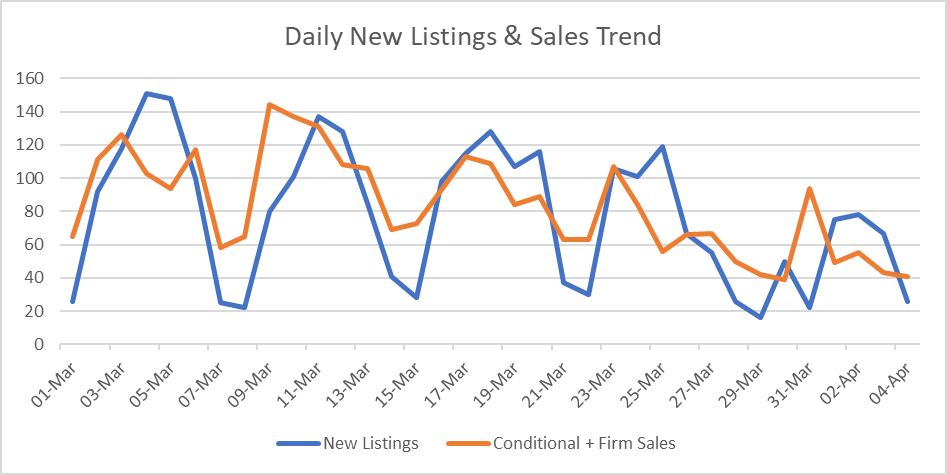 COVID-19 Impact On Ottawa Real Estate Market
Note: After reading this article, check out updated data and more sales and price impact analysis in this update:  COVID-19 Market Update
"Our results show that the Ottawa real estate market seems to have withstood the pressure of a worldwide economic event in March…"
Not my words. Those are the words of the President of the Ottawa Real Estate Board, quoted in the Board's April third news release.
This opening statement is an example of the careless positive spin that real estate agents and their representatives need to avoid. Statements like this are unfortunately common in the industry and this is one of the primary reasons I started my newsletter 8 years ago. Real estate professionals have a responsibility to inform the public objectively – and a duty of the same to their clients. The sales-y demeanor has to go away if we want to continuously earn respect.
The worldwide event began in December or January and its first tangible impact in Ontario hit in early March. It's rather premature to state that the Ottawa real estate market has withstood the pressure of the COVID-19 pandemic. The pressure is going to continue through April for certain, through May most probably, and quite possibly longer. How much longer, we don't know.
On March 19th the Ontario government ordered the shutdown of non-essential businesses throughout the province. Within a day or two they published a list of essential businesses and industries to guide this directive. Real estate agents are considered essential thanks in part to some excellent lobbying by the Ontario Real Estate Association. The crux of the argument is that many consumers are in the middle of real estate transactions that cannot simply be stopped without dire consequences, and agents are required to counsel them to completion. There will also inevitably be people whose circumstances make their need to buy or sell a high enough priority that they must be allowed to do so even in the midst of the pandemic at its current level of risk in Ontario.
Back to the Board's news release and the President's comments for a moment. To be fair and to her credit, she added the following: "however in context with our market's performance up to this point, we can see the underlying effect. Before the pandemic, monthly unit sales were increasing between 10-16% from 2019, while March's sales were just on par with a year ago. This is an indicator that there has been a slowdown in the real estate market due to Covid-19."
This comment more accurately reflects the market impact in Ottawa, and makes it very clear that the opening statement was not justified. It essentially contradicts it.
The real estate board produces monthly statistics in tabular form. I produce graphs from those statistics every month and provide my observations and analysis in my newsletter. It is clear that this monthly data formed the basis for the Board's news release and the President's comments. The question is, why did they not dig deeper. And the answer reflects another unfortunate tendency among real estate agents to provide a superficial level of information and analysis.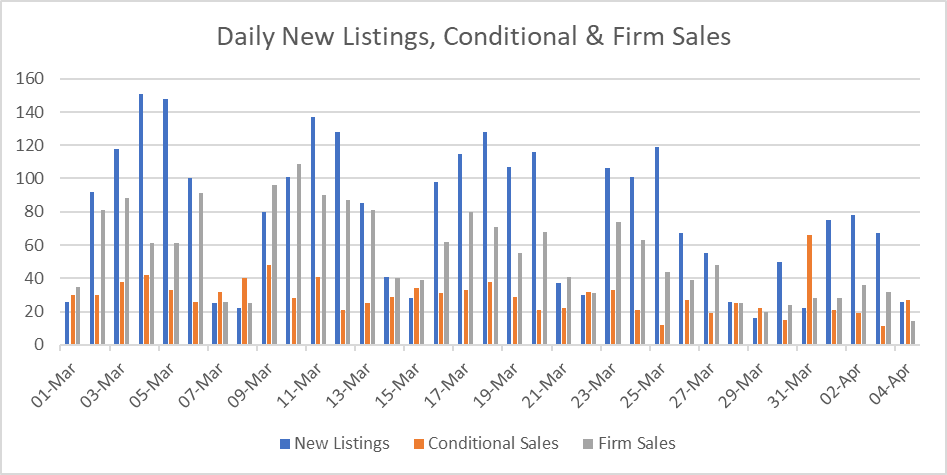 The COVID-19 pandemic has generated a global response that seems unprecedented since measures taken during World War II. If there was ever a time to dig deeper, this is it.
Curiosity alone should drive the desire. And for me it has. I've been running daily queries in the MLS system to track the impact of current events on the Ottawa market. Five charts and a few key figures show exactly how much the market is slowing down and begin to answer the question I posed in my March 18th video, recorded after the shutdown was announced but a day before it came into force. The question is, "will seller or buyer activity change the most?" While it was clear the entire market would slow down, the balance between buyer and seller activity is the biggest driver of property value and pricing.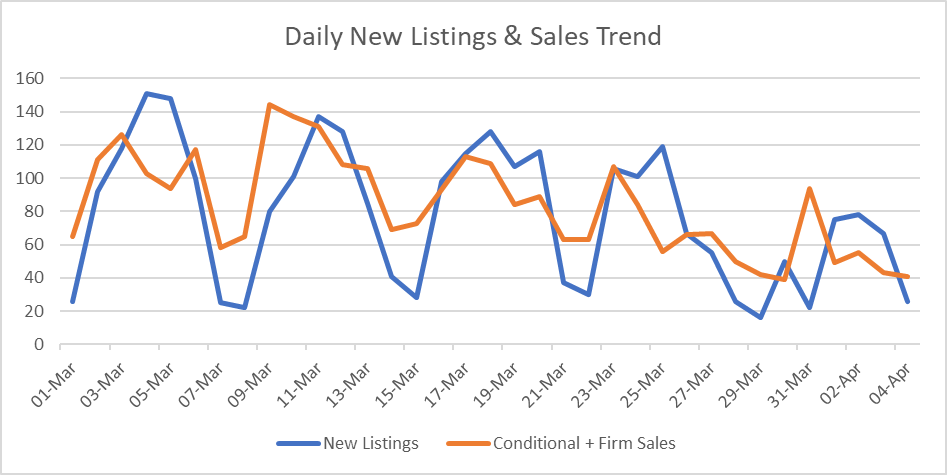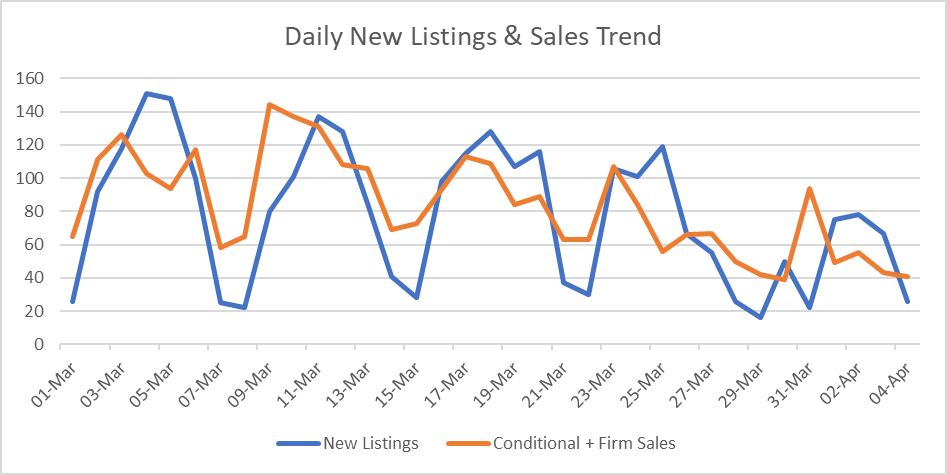 On March 18th I discussed one scenario. If buyers were to perceive an opportunity to acquire a home with less competition than we've been experiencing in Ottawa in the strong seller's market prevailing for the past year or so, perhaps buyer activity would not reduce as much as seller activity. It would be reasonable to think that sellers might perceive current conditions as less conducive to selling and might think opening their doors to viewings and inspections during a pandemic to be too risky. This combination of motivators could have bolstered the sellers' market with demand continuing to outpace supply. The daily data shows what is happening in fact; of course, it could change going forward, but at this stage the opposite scenario to the one I proposed is happening. There are more sellers than buyers entering the market right now.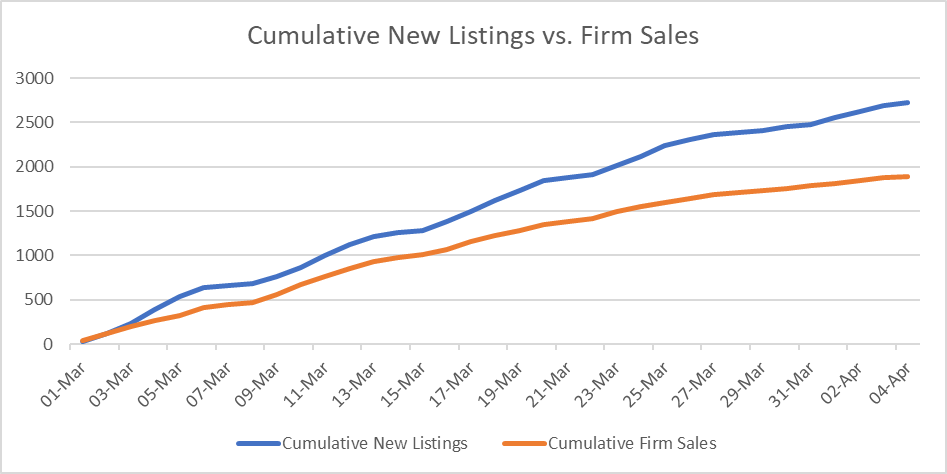 This shouldn't be a surprise. Look at stock market behaviour – the wisest investors; those who gain the most, always buck the trend. There is herd mentality in markets. People buy when prices are rising. They don't want to take the risk when prices are falling or they perceive they might fall.
Real estate agents have a responsibility to dig deeper and objectively inform. Their clients also expect them to advise, but never cajole. My advice to clients during the pandemic should go without saying, but clients want reassurance their instincts are prudent given current conditions. My advice is to stay home, take care of yourself and your family, and put your real estate plans on hold until this blows over. This is not a time to be taking all of the steps that are required to responsibly and successfully buy or sell a home. Investors will find opportunities, but I advise avoiding what could be essentially ambulance chasing. Look for opportunities that make sense for your portfolio, but that also help the other parties involved.