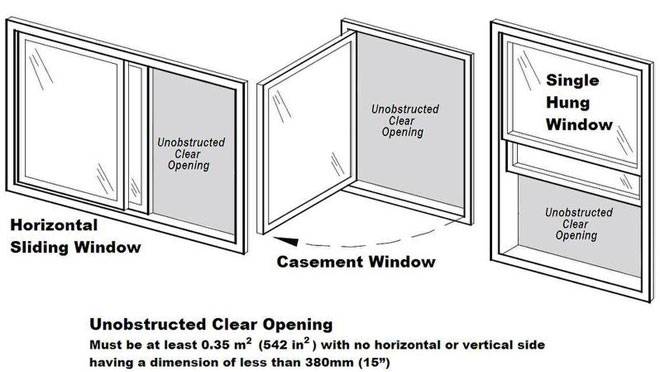 Is That Basement Bedroom Legal?
Basement bedroom window size is an issue that often comes up during home showings and inspections. When buying a home: "Is that bedroom basement legal?" When helping a client prepare to sell their home, the question is, "Can we call this a 3+1 bedroom home?" Does the bedroom in the basement "count"? Is it legal?
The answer is… it depends what you're really asking. This week there was an interesting discussion on the closed facebook group for Realtors in Ottawa about this very issue. It began with an agent asking how large the window in a basement bedroom needs to be in order to legally call the room a bedroom in the listing.
There are two sets of regulations governing the status of bedrooms in the basement. These codes, of course, govern the status of everything in the dwelling, not just basement bedrooms. These regulations are known as the Ontario Building Code (Full Text of The Act) and the Ontario Fire Code (Full Text of The Act). In general, the building code is a super-set of the fire code. If you meet the building code, you will meet the fire code. Both codes change over time, and your building must always meet the fire code, but does not have to be constantly retrofitted to keep up with the building code.
When you build a home or addition or perform a major renovation, you must meet the Ontario Building Code. Once your building or addition or renovated building exists and has passed inspection, you no longer have to keep up with ongoing changes to the building code. The vast majority of homes in Ontario don't meet the current building code, because it changes all the time and obviously it would be impractical to constantly renovate or modify homes to keep them compliant.
However, all residential dwellings must meet the current Ontario Fire Code at all times. This code changes quite frequently as well. For example, you may be aware of changes in recent years to smoke and carbon monoxide alarm requirements. If you're not aware of them, you should look them up.
The next question is, what happens if you don't keep up with the Fire Code? And the answer is, it depends on what type of property it is and who is living there. The City has the right to inspect multi-unit dwellings at any time to ensure fire regulations are being complied with. So if you've built a secondary dwelling unit in the basement, an official could show up to check it out, and shut you down if you are not in compliance. They do not regularly do this as far as I know, and according to fire inspection information on the City's website. The site states that while all high rise apartment buildings, all City healthcare facilities and most rooming houses have completed fire retrofit procedures to come in line with the Fire Code, the status of smaller multi-residential dwellings varies. It seems that random inspections do not generally take place. Inspections are triggered by: public complaints, fire incidents, or owner requests.
So it turns out that you could own a home or even a duplex or triplex that does not meet the Fire Code, without the authorities showing up and shutting you down.
But being shut down until you fix the problem would be better than the outcome if something goes wrong. If you don't meet the Ontario Fire Code, and a tenant is injured or dies in a fire in their unit that you own that did not meet the Code, you could find yourself in serious legal and financial trouble. Even if the property suffers major fire damage and no one is hurt, your insurance company will have ammunition for not covering your losses.
Back to the original question about that basement bedroom. If you're asking about a bedroom in the basement of the home you want to sell, or buy, here is what you really want to know:
was the bedroom built to code, with proper permits and inspections?
are all Fire Code regulations currently being complied with?
​I've stood in many basement bedrooms with a buyer or seller talking about the fact that there is no closet, or that the window may or may not be large enough, to call the room a bedroom, or to legally call it a bedroom. What might surprise you the most is that the Fire Code does not necessarily require a window in the bedroom itself. Certainly it is one option for meeting the egress requirements, but it is possible to meet the requirements via windows and/or doors outside the bedroom in some cases if they meet certain specifications. It is also possible that the window meets egress requirements and there is a closet (irrelevant from a Code perspective, but many people's favourite criteria for calling a room a bedroom!) but that some other aspect of the Fire Code is not met. For example: the wiring, or ceiling materials, or proximity to the furnace.
In summary, whether you call a room in the basement a bedroom or not for marketing purposes isn't really the right question. In fact, it isn't really a meaningful question. While we all seem to think there are marketing police checking the definition of rooms in property listings, this isn't exactly the case. As Realtors, we do have a responsibility to market properties accurately, and we can face legal consequences for misleading people, but there isn't a list of absolute definitions of rooms we must adhere to. Private home sellers are not held to the same standard as Realtors, and therefore home buyers may need to be even more diligent when purchasing from an unrepresented seller.
If you're selling a property, it's important not to make compliance claims that are untrue, and if you're buying a property, it's important to perform due diligence and not assume you are getting what it looks like you're getting on the surface. If you want a nice, safe basement bedroom for your teenager, make sure you find out whether or not a permit was issued for the basement finishing work, and ask your inspector whether or not there are any obvious fire code violations. If you're buying a duplex (or other multi-unit dwelling), make sure there is a recent fire retrofit certificate on file, or have it inspected for fire compliance by a third party inspector and be prepared to complete the work after purchasing the property.