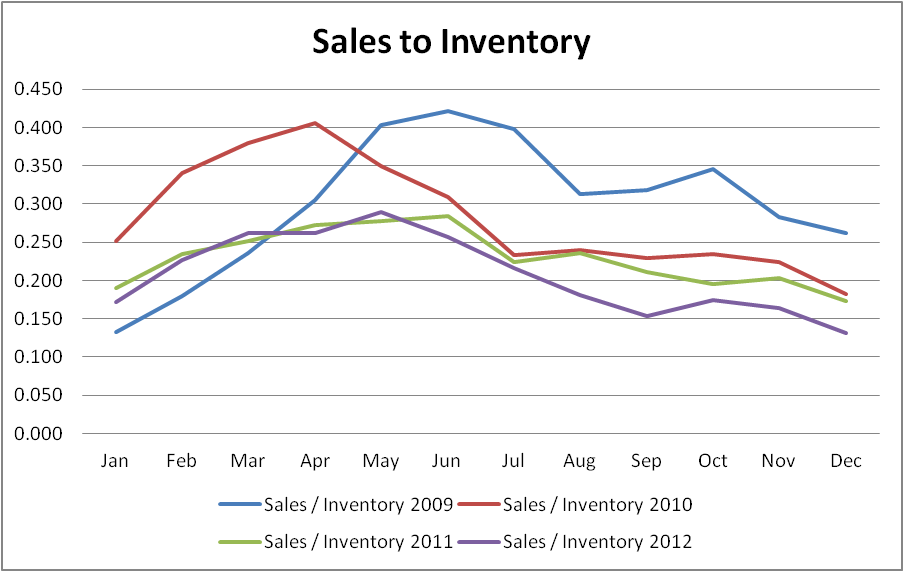 2012 – A Relatively Tough Year in Ottawa Real Estate
And so ends 2012, with the overall picture looking about the same as 2011 on the surface (similar number of residential properties sold and average selling price settling ever so slightly above 2011) but with more questionable footings lurking underneath… perhaps.  Like most soothsaying ventures, you really don't know what you're talking about if you're looking ahead but you can certainly discuss indications of the recent past and present to assess the current situation.  Below is a gallery with graphs of 9 key metrics illustrating quite clearly that 2012 was the most difficult of the past 4 years in residential real estate in Ottawa.  Why is that my conclusion?  Looking at the inventory and sales to inventory graphs you will see that 2009 stands out positively and 2012 stands out negatively with 2010 and 2011 behaving very similarly to each other and quite firmly placed in the middle ground between 2009 and 2012.
If you read the Ottawa Real Estate Board's press release for December 2012 you'll find if you look closely at the average sale price numbers, there is something wrong in their calculations.  They show an increase in the combined average sale price of homes and condos by 1.3% based on an increase of 0.6% in the price of homes and a decrease of 1.7% in the price of condos.  Can you explain how that makes sense mathematically?  Don't try too hard because it doesn't.
The weighted average of the residential price differential and condo price differential result in a combined decrease in sale price of 1.3%  I'm currently investigating how the board calculates their statistics because there are other discrepancies as well.  It seems clear they exclude some MLS areas (presumbly those outside city boundaries) however when I to the source data and make these exclusions myself, the numbers still do not match those published by the board.
We'll take a closer look at 2012 numbers in my next email newsletter. You can subscribe to my monthly newsletter here.  It's free, and you can cancel anytime no questions asked.
I love January in real estate in Ottawa – many people look forward to a move or investment "next year" and I find the conversations begin in January.  If you're thinking about making a real estate move this year – for home or investment – give me a shout or drop me a line. I'd love to help.
Bruce